[ ] Biography
[

]&nbspThe Pilot
[ ] The Poet
[ ] The Writer
[ ] The Painter
[ ] The Politician

[ ] Photos

[ ] Samples
@ Send E-mail

[ ] Order





På svenska
| | |
| --- | --- |
| Watching flight school commercials on TV prompted me to think "why not me? I would love to become a pilot" and just like that, in 1974 while married with 5 children, I began taking lessons on gliders at the Royal Aviation Club in Doshan-Tapeh. Located next to the Air Force Base, Doshan-Tapeh was filled with students who were interested in learning to fly. On many occasions, I took my children with me to Doshan-Tapeh where they all had the opportunity to take a glider flight. | |
One of my most memorable moments as a student on gliders was when on a flight, one of my instructors started performing acrobatic maneuvers, the thrill of which I will never forget.
There was a long-standing tradition at the school to drench students who had completed their first solo flight with water, which signaled the graduation of a pilot.When I got back from my first solo flight I was greeted in the same manner on the runway hence my graduation.
After receiving my license on gliders, I moved on to Ghaleh-Morghi School of Flight in October the same year in order to start my lessons with single and twin engine aircraft. The first plane I was trained on was a Sesna 172, and after only14 hours of flight I successfully completed my first solo flight.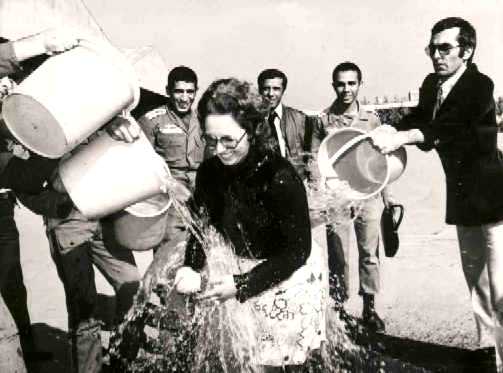 The next phases of training were more demanding and consisted of night and long distance flying to cities such as Tabriz, Kermanshah, Ahwaz, Isphehan and Rasht. During my four years of flying, I flew 150 hours with an instructor and 50 hours solo in both day and night. Every morning, after dropping off my husband at work and taking my children to school, I would head down to Ghaleh-Morghi. I was very passionate about flying and often times, I would wait a whole day at Ghaleh-Morghi for my turn to fly. Although most times I had to leave my youngest son at my husband's office, occasionally I would take him with me on my flights. I remember once upon landing, as I woke him up to get off the plane, he turned around to me saying Mom, let's fly again. Sweet memories such as these are the most cherished moments of my life, which are not common experiences of every day life.
Along with practical portion of the training, every day I had to attend ground school whereby all the required subjects like Aerodynamic, Engine, Precision Instruments, Meteorology, Navigation as well as English were taught. Upon achieving my license, I received two different job proposals. I was offered the flight instructor position at the Royal Aviation Club and the co-pilot position for twin-engine planes at the Air-Asseman Airline. Unfortunately however, my further progression in this field came to an end with the revolution in Iran. I had no choice but to let go of flying and my dreams of working in that field. Throughout my years of flying, I became quite a celebrity in that many interviews were conducted with me on radio and television and my pictures were published in all the major national magazines and newspapers.

I was frequently invited to the grand openings of many branches of the Royal Aviation Club in various cities and locations. Also, my autobiography was included in a book that was published by Iran's Women Organization called Lahzeha va Talasha (trans. Moments and Efforts).
This book was a collection of autobiographies of unique women who had highly distinguished themselves in rather less traditional professions. This book along with a commendation from Mrs. Mahnaz Afkhami, the Minister of Women's Affairs, was sent to me.
I was most pleased to find out that while living abroad, my efforts and achievements were still recognized by the Iranian community across the world. In 1990, I received a request for interview from Javanan magazine in Los Angeles, U.S., subsequent to which a reporter was sent to Sweden and the interview was published. Later in 1995, in a book that was published in Washington, U.S., by Mrs. Mansoureh Pirnia, my autobiography was included as the "most experienced female pilot". Also in the same year, there were few articles about me in two newspapers called Nimroz & Rah-Ayandeh.
Despite the passion and interest, my efforts in 1985 to find a job in the aviation field in Sweden were unsuccessful. Later on in 1989, I took flying lessons along with ground classes in Bromma Airport, Stockholm. However even after getting my Swedish license, I did not succeed to get into that profession.
www.iranian.com
---
http://www.arya.se/
arya@arya.se